A Non-Profit Ministry | Denton, Texas
Blue Haven Ranch
Founded by Bryan & Aubrey Schlackman
Support for Pregnant Moms
Blue Haven Ranch was birthed from the desperate need of single moms that are pregnant and in difficult life circumstances. Here are the services Blue Haven Ranch provides to mother-led families.
Personal Living Space
Through BHR-funded apartments. We aim to build at least 20 mother cottages for these families on our future maternity ranch.
Life Skills Training
Sustainability is one of our core values for a reason. We want to be able to weave into every aspect of our program the ability to equip these mothers to be capable of caring for their families eventually on their own and feel empowered to do it well. This includes teaching skills involving cooking, home care, car maintenance, gardening, etc., so that they can create the home environment they envision for their families.
Family Counseling
We provide counseling for each of our mothers and require them to see their counselors twice each month while in our program. We also provide counseling for their family unit as a whole or for one child at a time to achieve their desired goals.
Maternity Leave
Each of our mothers receives two months of maternity leave which all bills and expenses are paid for to allow for complete focus on their new baby. We have volunteer teams that come together during that time to help with meals and a care team that can step in to complete tasks around the home and give mom rest from chores and her other children.
Farm Therapy
This is a unique part of our program that we have been working on cultivating since the beginning. Farm Therapy can have many names, but it provides a therapeutic environment by caring for animals, gardening, and equine therapy to aid in the healing process from trauma.
Financial Assistance
We provide rent, childcare funds, and paid utilities for each family during the program. Our moms must work either part-time if they are continuing their education or full-time. Each mom receives financial coaching and new income goals to help them pay off their debt, improve their credit scores and work toward establishing savings.
Supportive Community
Creating a healthy community and teaching our moms how to create their communities before graduating is one of our top priorities. No family can thrive without a community of their own. Often before our mother-led families join BHR, they fall prey to difficult situations and cannot rise above them because they lack any deep community support from family or friends. Learning to create a healthy and supportive community is a missing skill in Western culture, and it takes work and cultivation that we are eager to show by example.
Gospel Discipleship
To share the Gospel of Jesus Christ means to be the hands and feet of Jesus and to serve those in need (James 1:27). Jesus commands us to go out and make disciples. We know that for these families, we do that best by developing deeper relationships and speaking truth over their lives while walking beside them on their journey (Matthew 28:18-20).
Bible & Life Lessons
We must select a curriculum that shows our families the love of Christ, his sacrifice for our sins, and that we all grow through sanctification. We also want to choose lessons that challenge negative mindsets learned over years of abandonment/abuse. We want to help them grow to an understanding of a positive mindset that they can change their family legacies and partner with the redeeming work of Christ.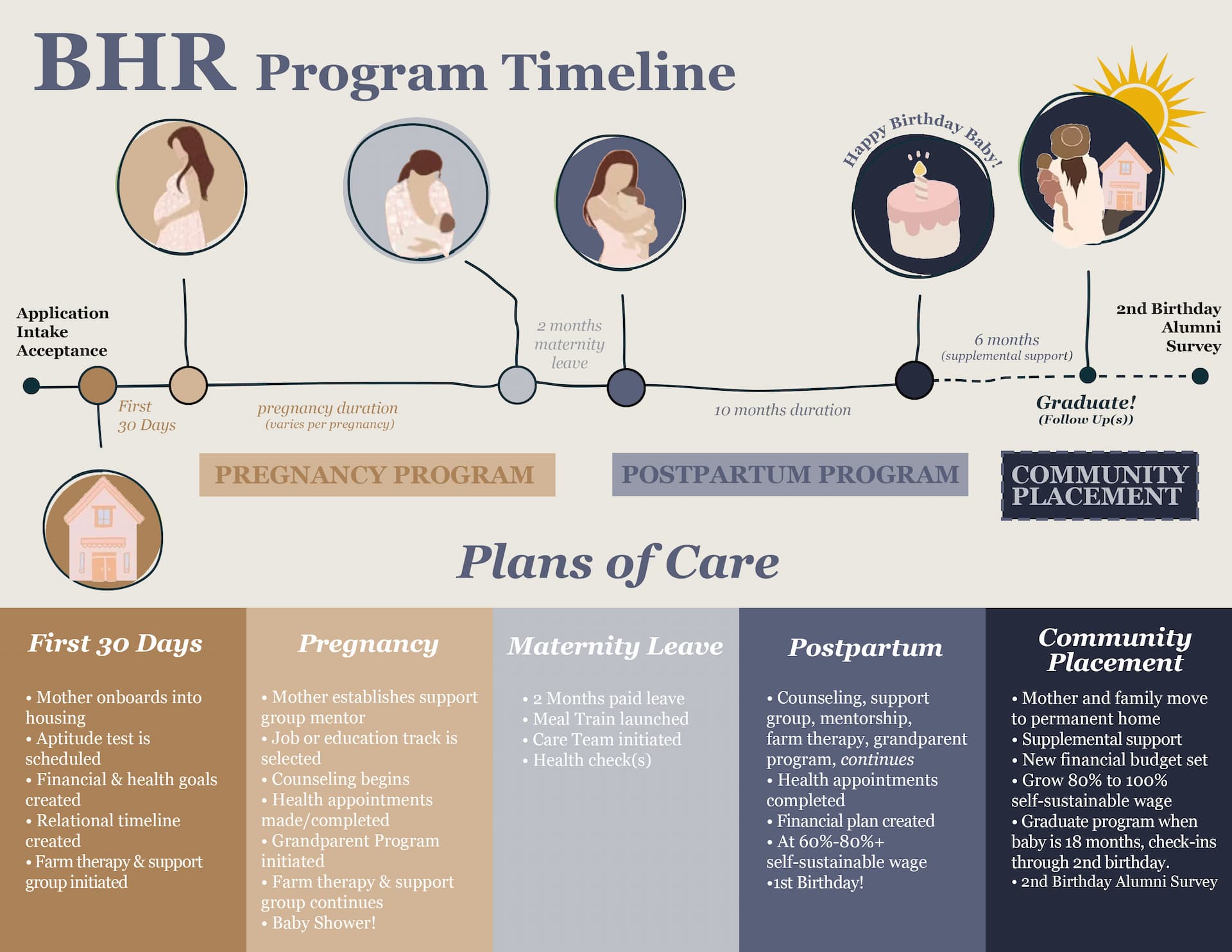 Beth's Story
When Beth found herself pregnant unexpectedly, she felt scared, lost, and alone. With her business already struggling due to COVID, she contemplated ending her pregnancy to continue supporting her two older children. After receiving a generous tip around the holiday season, she purchased a pack of diapers. There, she bumped into her neighbor Bryan Schlackman in the baby aisle, to who she then disclosed her pregnancy. The Schlackman's informed her of their start-up nonprofit, Blue Haven Ranch, a program to support single pregnant moms, and began assisting Beth with immediate needs and asked if she would be the first to join the program as a mother-led family. Although hesitant and cautious about vocalizing her circumstances, Beth agreed and felt hopeful and knew this step was for her.
Feeling damaged and punished, she knew Blue Haven Ranch would offer her a positive change for her life and her family. After the first meeting, Beth was enthralled and comforted by the atmosphere the staff and volunteers cultivated. She appreciated the community BHR creates with meals, curriculum, and conversation. Circumstances once viewed as mountains unable to climb are now hills Beth travels confidently in Christ.